This is truly and early bird currently up for auction on gunbroker...
http://gunbroker.com/Auction/ViewItem.a ... =141493894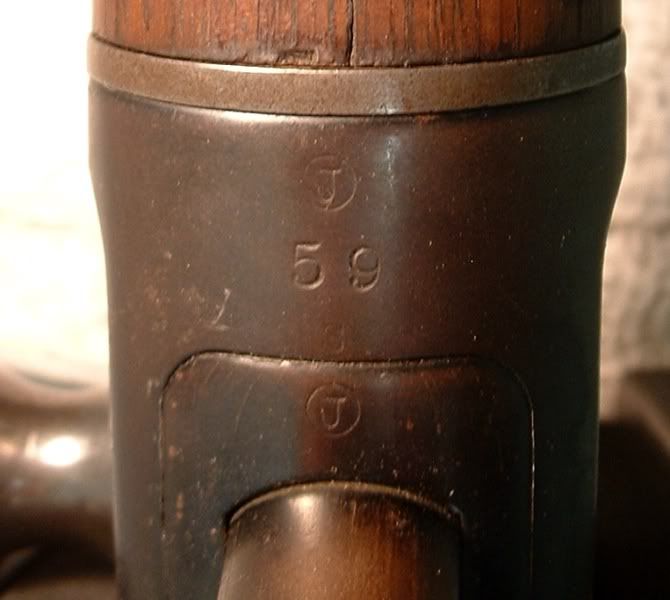 Cam Woodall
Site Co-Administrator
---
sold for nearly $830, wow.
Cam Woodall
Site Co-Administrator
---
I bid on that gun! I quit at $824.30. The bidding was strange and I felt it was being run up on me. Anyway, I went past my limit given the fact that some of questions about the gun left me concerned. It was a "buy as is, no inspection and no return. I have been burnt on a few auctions like this one and said it would not happen this time. Maybe I made a mistake.
---
I have a few extra pictures of the rifle not listed on the auction; it has a replacment barrel and the area around the trigger plate screw looks buggered. I don't know, pretty darn early gun anyways!
Cam Woodall
Site Co-Administrator
---
Hey 81Police,

Are you the new owner of this rifle? If you are, I want you to know that I feel better about the bidding process at Gun Broker. I still have reservations about the sellers reservation to answer questions and that was the main reason that I quit bidding. If you have some additional pictures of this rifle, I would enjoy seeing them so that I can kick my butt for letting it get away!!!

As you pointed out it would be a nice addition to any collection whether it has imperfections or even working. I have some other old guns that I have picked up over the years that do not work, but they make nice conversation pieces.

As a new member to the site, I have a lot of questions about the 8 81 and would like to take advantage of your knowledge to help me as I progress with my collection.

Jack
---
Jack,

No I did not bid on that rifle.

Feel free to ask any questions you have, I certainly don't have all the answers but between all the knowledgeable members on this forum we can probably figure it out!
Cam Woodall
Site Co-Administrator
---
Why isn't the serial number stamped on the jacket head. From what I have read it was general practice to stamp both areas. Is it possible with this early piece, double stamping wasn't procedural or did the heads get stamped when they got sent back to Rem. for a repair
[b]Member of Berwyn Rod and Gun Club since 1983, it is an outdoor range located in Bowie Maryland, if interested in joining call 301-261-7515 or 301-464-9830[/b]

You don't pay too much, you pay too soon
---
Posts: 232
Joined: Fri Feb 28, 2014 11:31 pm
Contact:
I have been burned on two GB auctions. One K98 came with so bad a bore it keyholed at 7 yards (I am not joking).

The last muzzleloader I got on there had a very rusted bore and the seller at first offered a partial refund (after stating by email "the bore is perfect") then backed out on that. GB refused to help. I considered "interstate fraud" via USPS but decided to let it go. A few weeks later I found a pristine and very limited production .58 caliber ML for about 1/10 of its value....I figured God was cutting me a break! I even told the seller his price was too low and the guy said, "you can owe me one" so he knew too!

These days, if the seller has any "F"s I think on those. If there is no return policy, I think very hard.

There is always something else to get and I have found when I think "well God bless the buyer, I hope he enjoys it" I feel a lot better about not getting it.
---