I am trying to identify a Remington Model 14 1/2. It has a special bronze buttplate with Remington NOP embossed on it. It is a takedown 44 calibre and has a Dominion of Canada proof mark on it. The serial number is C251XX. Could this be an old police gun. Anyone that has any information, please let me know. Pictures below.
---
No info but... droolcity!
Though defensive violence will always be "a sad necessity" in the eyes of men of principle, it would be still more unfortunate if wrongdoers should dominate just men. - St. Augustine
---
ranman,
I'd recommend posting this on the Remington Society of America's website, surely someone on there can answer your questions.
http://www.remingtonsociety.com/
Cam Woodall
Site Co-Administrator
---
Posts: 1
Joined: Sun Aug 26, 2012 1:29 pm
this is one of 4000 british army rifles.1922 to 1935
---
Wow! Pretty interesting rifle you have there.
I did a little digging on-line and came up with the following. Apparently after the model 8 came out it wasn't selling well against the lever action Winchester so Remington decided to turn up the "heat" with a new rifle.
They brought out the model 14 pump action centerfire rifle. Basicly it was introduced in 1913, around 1920 it was upgraded to the model 14 1/2. It featured a slide action with the same four calibers the model 8 rifle was offered in.
Including the model 14 1/2 about 126,000 of these rifles were made when production stopped in 1934.
Remington then came out with the model 141 which stayed in production untill 1950 or so.
The credit for the original design is a guy named John Pederson.

The serial numbers ran 00001 ending 1250650
Looks like your rifle may have been exported for sale.
If you go to wikipedia and type in your rifle model you'll probably get more info.
Hope this helps.
---
mr mike has shared some good info, but a slight correction is warrented. The 14 1/2 was not a later upgrade of the 14, they were offered at the same time. The difference being that the 14 was offered in the same calibers as the model 8, while the 14 1/2 shot 44-40 or 38-40 calibers. Great guns which are fun to shoot.
[color=#004000]COREY CREAMER[/color]
---
---
Mr Ranman;
Nice gun!
Interesting that your rifle has a short mag tube, like a carbine - the 14 1/2 had a full length mag tube - what is the barrel length on your gun?
bryan larocque wrote:this is one of 4000 british army rifles.1922 to 1935
In addition to the post quoted above, the following is what I received from a prominent member of the Rem. Soc. when I inquired about my 14 1/2 shown below
In regard to the 14½, no one knows how many were made but I personally think the number is somewhere around 10,000. Part of this is based on the fact that 4000 were ordered for the British Navy for use in WWI. JP Morgan was the agent for the British government, and the order is dated October, 1915, I believe. I have it in my files but am too lazy to dig it out. Anyway, Britain contracted with the Canadian Proof House to send representatives to the factory to proof the rifles. They also purchased 20,000 44-40 rifles from Winchester, and these were also to be proofed by Canada. After the war, maybe as late as 1926, the rifles were sold as surplus, and they ended up in Canada, Australia, New Zealand, South Africa, and, of course, the United States.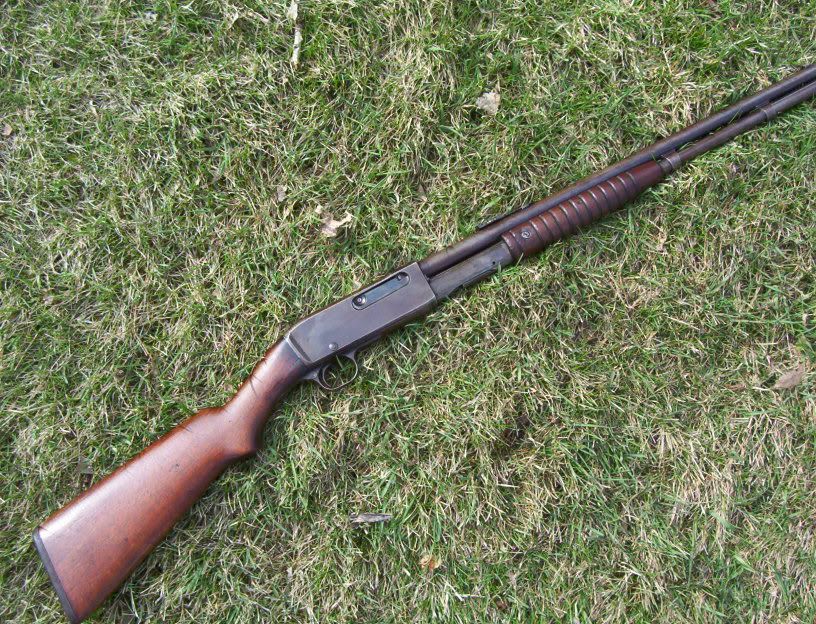 [/quote]
---
Canuk, The barrel measures about 22 inches. I can not tell if the mag tube has been cut. It looks original, but many of these old guns have been customized. They are a blast to shoot on the range and are not to hard on my shoulder.
---