When I was old enough to start deer hunting I was looking for a suitable rifle when a family friend told me about a Browning autoloader in .300 mag that he knew about and that he could probably get it for me for $200. I jumped at the deal but when I saw the gun he was talking about it turned out to be a battered old Model 81 chambered in .300 savage. There was a thin coat of rust over most of the metal, there was a chunk of wood missing from the toe of the stock, and someone had whittled down the forend tip with a pocket knife. I was really disappointed at the time and told the owner I was only willing to pay $50 for it and after a little haggling he accepted a final amount of $65.
I spent a few hours rubbing off the rust with some 0000 steel wool and motor oil and a couple days sanding and refinishing the stocks. Then after doing some research I realized what a neat rifle I really had.
Handloads using 40 grains of IMR-4064 and 150 grain hornady boat tails are not quite stiff enough to operate the action with 100% reliability but they printed just under an inch and a half at 100 yards and when sighted in 2 inches high at that range I could aim dead on out to 200, raise the sight one step up the ramp for 300 and one more for 400. It would ring my 10 inch gong at 400 yards every time if I did my part. I've heard from many that these rifles aren't very accurate and maybe my 81 is an exception to the rule but I believe that with a load that is tailored to the gun they can be fairly accurate. Now I just need to figure out a load that will shoot as well and also operate the action properly.
So now I'm truly in love with this rifle. My question to you guys is, should I leave the rear stock the way it is, or do you think I should remove the original buttplate, knock off an inch or so, reshape the stock, and put on a recoil pad?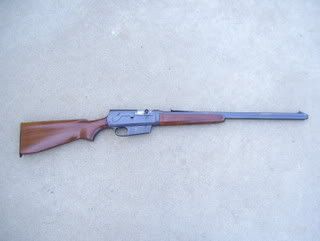 Look at the toe of the stock and you'll see what I'm talking about.